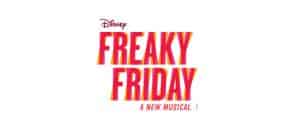 FREAKY FRIDAY
Friday Jun 11, 2021 – Sunday Jun 27, 2021
Synopsis:
When an overworked mother and her teenage daughter magically swap bodies, they have just one day to put things right again. Freaky Friday, a new musical based on the celebrated novel by Mary Rodgers and the hit Disney films, is a heartfelt, comedic, and unexpectedly emotional update on an American classic.
Guidelines for Patrons For Outdoor Performances
Safety
Ridgedale is committed to patron, cast and crew safety and to that end the most up to date COVID safety guidelines including mask requirements on entering and being seated. You may remove your mask as you choose once seated. Restrooms are available inside the building for your comfort but we ask that you access the building for this purpose only. Please follow the traffic signs to expedite traffic flow.
The ticket booth inside the building will not be open. Temperature checks may also be required. We respectfully ask that if you are feeling ill that you contact us to exchange your ticket for another performance.
When you Arrive
The grounds will open one hour before the performance. Proceed to the brown shed at the back of the parking lot for admittance. Our hospitality team will assist you, answer any questions, and direct you to the seating area. In addition to something to sit on, you may want to bring a lap blanket for warmth, insect repellant if needed, and snacks/beverages. Please, no glass containers, no alcohol, and no pets.
About Seating
Please be sure to bring your own chairs, blankets, and picnic items if you choose. Chairs are not available onsite. Seating is first come, first served. We ask for cooperation as we arrange our outdoor house so that everyone has a good view: blankets at the front, followed by beach chairs, with taller lawn chairs at the back. Groups that wish to sit together should coordinate their arrival time so they can be seated together. If you have any special needs, please let the ushers know when you arrive.
Rain Dates, Exchanges, and Refunds
If a performance is cancelled due to rain, we will exchange your tickets for another performance. If the production is cancelled on the last performance day, we will apply your ticket to a future performance of another show in the 2021-2022 season or you may donate the cost of your ticket. No refunds will be offered.
INCLEMENT WEATHER HOTLINE: (248) 988-7049
If you are in doubt about whether the show will run, please call the Ridgedale Players main number listed above.
Questions? Email president@ridgedaleplayers.com
BUY TICKETS NOW