2023 – 2024 Season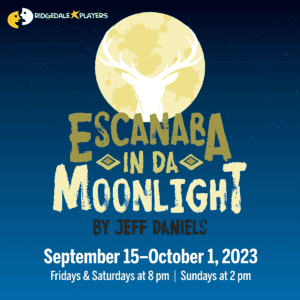 Escanaba in Da Moonlight – September 15th – October 1st, 2023
When the Soady clan reunites for the opening day of deer season at the family's Upper Peninsula camp, thirty-five-year-old Reuben Soady brings with him the infamous reputation of being the oldest Soady in the history of the Soadys never to bag a buck. In a hunting story to beat all hunting stories, Escanaba in Da Moonlight spins a hilarious tale of humor, horror and heart as Reuben goes to any and all lengths to remove himself from the wrong end of the family record book.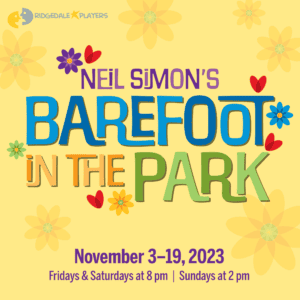 Barefoot in the Park – November 3rd – 19th, 2023
Paul and Corie Bratter are newlyweds in every sense of the word. He's a straight-as-an-arrow lawyer and she's a free spirit always looking for the latest kick. Their new apartment is her most recent find – too expensive with bad plumbing and in need of a paint job. After a six-day honeymoon, they get a surprise visit from Corie's loopy mother and decide to play matchmaker during a dinner with their neighbor-in-the-attic, Velasco, where everything that can go wrong does. Paul just doesn't understand Corie, as she sees it. He's too staid, too boring, and she just wants him to be a little more spontaneous. Running "barefoot in the park" would be a start…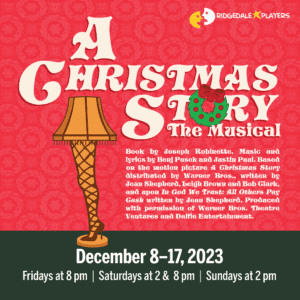 A Christmas Story: The Musical – December 8th – 17th, 2023
This musical, which received rave reviews on its Broadway run, is based on the movie classic that runs round-the-clock on television every Christmas. Set in the 1940s in the fictional town of Hohman, Indiana, the musical follows 9-year-old Ralphie Parker and his quest for the Holy Grail of Christmas gifts—an Official Red Ryder carbine-action 200-shot Range Model air rifle. Rebuffed at every turn with a similar echoing response, Ralphie plots numerous schemes to achieve his desperate desire for the coveted BB gun. All the iconic scenes from the movie are here: Ralphie's friend, Flick, getting his tongue stuck to the flagpole; his brother, Randy, getting dressed in his snowsuit; the bullies, Farkus and Dill; the leg lamp award; the bunny suit; Christmas dinner; and many others.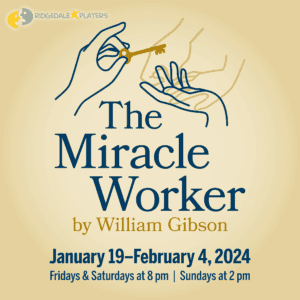 The Miracle Worker – January 19th – February 4th, 2024
Immortalized on screen by Anne Bancroft and Patty Duke, this Tony Award-winning play is the story of Annie Sullivan and her student, Helen Keller, who lost her sight and hearing at the age of 19 months. With compassion, humor and dramatic tension, The Miracle Worker explores the volatile relationship between a lonely teacher and her headstrong charge.
Trapped in a secret, silent world, unable to communicate, young Helen is violent and spoiled, treated by her family as subhuman. Only Annie sees a mind and spirit waiting to be rescued from Helen's dark, tortured silence. After scenes of intense physical and emotional struggle, Helen's breakthrough finally arrives with the utterance of a single, glorious word: "water."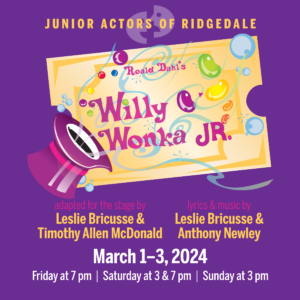 Willy Wonka, Jr. (Junior Actors of Ridgedale) – March 1st – 3rd, 2024
The delicious adventures of Willy Wonka's chocolate factory light up the stage in this captivating adaptation of Roald Dahl's fantastical tale. Featuring the enchanting songs from the 1971 film, in addition to a host of fun new songs, Roald Dahl's Willy Wonka JR. is a scrumdidilyumptious musical guaranteed to delight everyone's sweet tooth.
Roald Dahl's Willy Wonka JR. follows enigmatic candy manufacturer Willy Wonka as he stages a contest by hiding golden tickets in five of his scrumptious candy bars. Whomever comes up with these tickets will win a free tour of the Wonka factory, as well as a lifetime supply of candy. Four of the five winning children are insufferable brats, but the fifth is a likeable young lad named Charlie Bucket, who takes the tour in the company of his equally amiable grandfather. The children must learn to follow Mr. Wonka's rules in the factory — or suffer the consequences.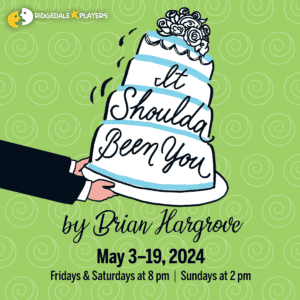 It Shoulda Been You – May 3rd – 19th, 2024
A world where nothing is what it seems, religions collide, Machiavellian plots are revealed, promises are broken, secrets are exposed and hope springs from the most unlikely of places…. Is it the latest conflict in the Middle East? No, it's just the Steinberg wedding. The charming, funny and original new musical, It Shoulda Been You invites you to a wedding day that you'll never forget, where anything that can go wrong does, and love pops up in mysterious places.
The bride is Jewish. The groom is Catholic. Her mother is a force of nature. His mother is a tempest in a cocktail shaker. And, when the bride's ex-boyfriend crashes the party, the perfect wedding starts to unravel faster than you can whistle "Here Comes the Bride!"  It's up to the sister of the bride to turn a tangled mess into happily ever after in this musical comedy for anyone who ever had parents.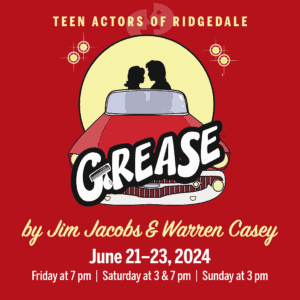 Grease (Teen Actors of Ridgedale) – June 21st – 23rd, 2024
Here is Rydell High's senior class of 1959: duck-tailed, hot-rodding "Burger Palace Boys" and their gum-snapping, hip-shaking "Pink Ladies" in bobby sox and pedal pushers, evoking the look and sound of the 1950s in this rollicking musical. Head "greaser" Danny Zuko and new (good) girl Sandy Dumbrowski try to relive the high romance of their "Summer Nights" as the rest of the gang sings and dances its way through such songs as "Greased Lightnin'," "It's Raining on Prom Night," "Alone at the Drive-In Movie" recalling the music of Buddy Holly, Little Richard, and Elvis Presley that became the soundtrack of a generation.