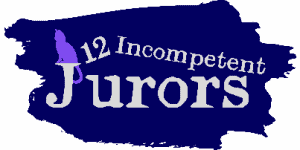 OPEN AUDITIONS: JULY 15 & 16
Registration from 6:30-7:00pm
Auditions begin at 7:00pm
BRING THE FUNNY!
A hilarious parody of 12 Angry Men, by Ian McWethy
When a man stands accused of abducting half a dozen cats, it's a simple open-and-shut case – even for a jury
filled with knuckleheads. Every scrap of evidence indicts the accused. Clearly the man is guilty of stealing cats.
He even admits it. Case closed, right? Nope. Not even close. Will Juror Eight be able to sway the other jury
members or will they side with Juror Three, the only sane man in the room. Who knows? They can't even decide
whether to leave the air conditioner on or turn it off, for cryin' out loud. Let the hilarity begin!
SHOW DATES: SEPTEMBER 17 – OCTOBER 3
CAST OF KNUCKLEHEADS:
Character ages are listed. Actor ages may differ.
Please email the director at kevinrcurtis@comcast.net for a digital copy of the script and audition cuts.
It is important to familiarize yourself with the characters and storyline before auditions.
Other cuts from the show will be used for callbacks.
OPEN AUDITIONS: JULY 15 & 16
Registration from 6:30-7:00pm
Auditions begin at 7:00pm
BRING THE FUNNY!
SEVEN (male; 40+): Sweet but lonely. Unemployed
and lives with his grandmother. Thinks he's found a
friend in the prosecutor.
EIGHT (male; 40+): Believes he/she should have
been a lawyer. Persuasive and self-righteous.
NINE (male; 30+): Creepy guy. Eats French fries all
the time. Keeps to himself, mostly.
TEN (male or female; 35+): Angry with almost
everyone. Definite rage issues. Probably should be
medicated.
ELEVEN (male or female; 35+): Works in PR. A fast talker,
though not much of an intellect.
TWELVE (female; 40+): An emigrant from
somewhere in Eastern Europe. Has trouble
expressing her ideas and understanding others.
FOREMAN (male; 55+): Overly eager to please.
Energetic. Takes improve classes at the YMCA, but has
only one character…a kooky Cockney lady he randomly
inserts into conversations.
TWO (male or female; 35+): Nervous, prone to anxiety
attacks. Terrible at making arguments or standing up for
himself/herself.
THREE (male; 40+): A sensible everyman. It's him
against a room full of knuckleheads.
FOUR (female; 18): A bratty teenager. Always texting.
Rude, inconsiderate, easily annoyed.
FIVE and SIX (50+): A bickering couple. Loud,
argumentative, but gosh darn it if they don't love each
other.