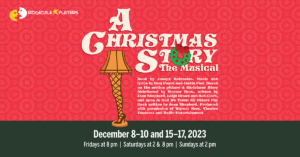 A Christmas Story: The Musical
Auditions Saturday, October 7th. Kids 8-18 10am-1pm, Adults 3pm. Callbacks Sunday, October 8th, Time TBA
Pre-register now at https://forms.gle/ZMn5yjFisrYuoutk9!
This musical, which received rave reviews on its Broadway run, is based on the movie classic that runs round-the-clock on television every Christmas. Set in the 1940s in the fictional town of Hohman, Indiana, the musical follows 9-year-old Ralphie Parker and his quest for the Holy Grail of Christmas gifts—an Official Red Ryder carbine-action 200-shot Range Model air rifle. Rebuffed at every turn with a similar echoing response, Ralphie plots numerous schemes to achieve his desperate desire for the coveted BB gun. All the iconic scenes from the movie are here: Ralphie's friend, Flick, getting his tongue stuck to the flagpole; his brother, Randy, getting dressed in his snowsuit; the bullies, Farkus and Dill; the leg lamp award; the bunny suit; Christmas dinner; and many others.
If you're auditioning for the roles of Jean, Mother, or the Old Man, please prepare one of the following cuts. If you're auditioning for any other adult role, you can come prepared with 16-32 bars of a song that is in the same style of the show.
If your child is auditioning, please prepare using the "All Kids" cut.